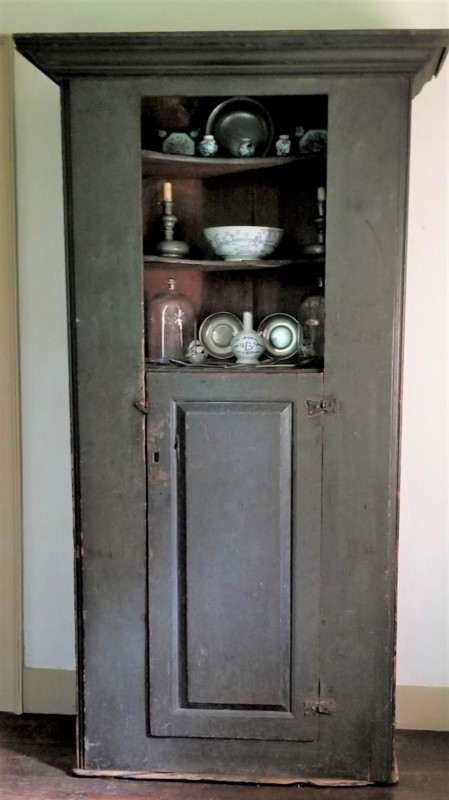 A VERY EARLY 18th C.
PINE 
CUPBOARD, 

of  fine
proportions, likely Portsmouth, NH. in early 19th C. grey 
blue over original, now oxidized green paint. This 
rare survivor has butterfly hinges, original lock, hugh 
cornice, curved vertical molded corners, original floorboard
, as
well as its original red paint throughout the interior. The
cupboard stands 79" high, is 36" wide and 17" deep. 

Provenance available on request.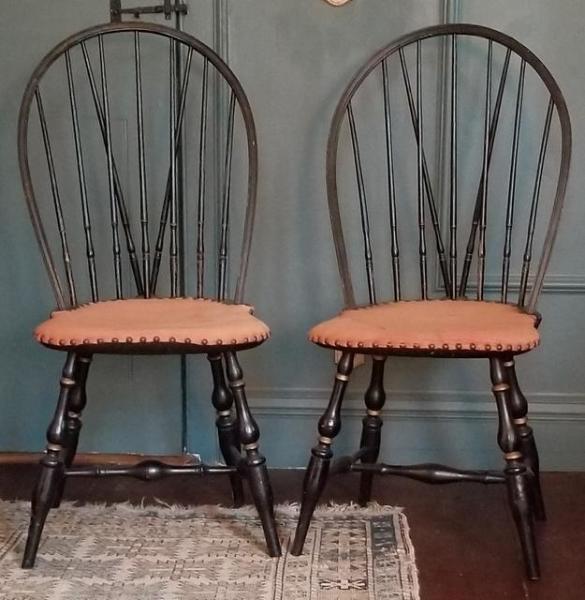 A RARE PAIR OF 18th C . RHODE ISLAND UPHOLSTERED BRACED, BOW BACK WINDSOR
SIDE CHAIRS
 with pipe stem turned spindles in
19th C. 
black paint and gold striping on the turned legs. Seat height
is 17". Note that although a pair, the medial stretchers are different.  Provenance: private collection of Jerome Blum.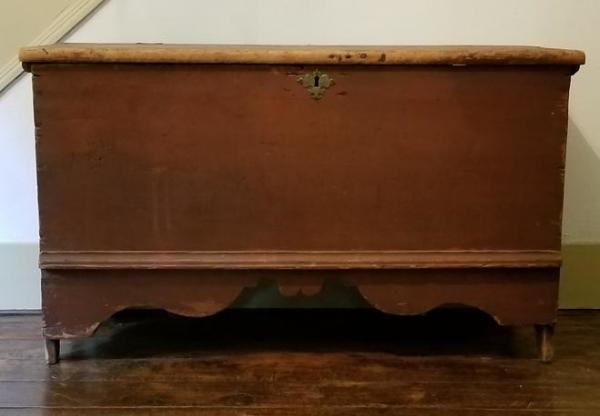 Early 18th Century Wethersfield chest in original red paint having the traditional apron cutout of Wethersfield, CT.

One butt hinge had been added to support the lid where one cotter pin was pulled away from the case. Height is 24 1/2". 
​The case measures 24 1/2" wide by 15" deep.

Late 18th Century Connecticut, cherry tall case clock, signed Joseph Bulkley Fairfield. Joseph Bulkley 1755-1815, resided and worked in
Fairfield, CT throughout his life and was hailed as the leading clock-
maker of Fairfield County. The case is beautifully proportioned and 
had recurring cyma curves on the base, door and bonnet scroll. The 
engraved brass dial is typical of his work. The clock stands 86" high
and is all original only than missing its floor board.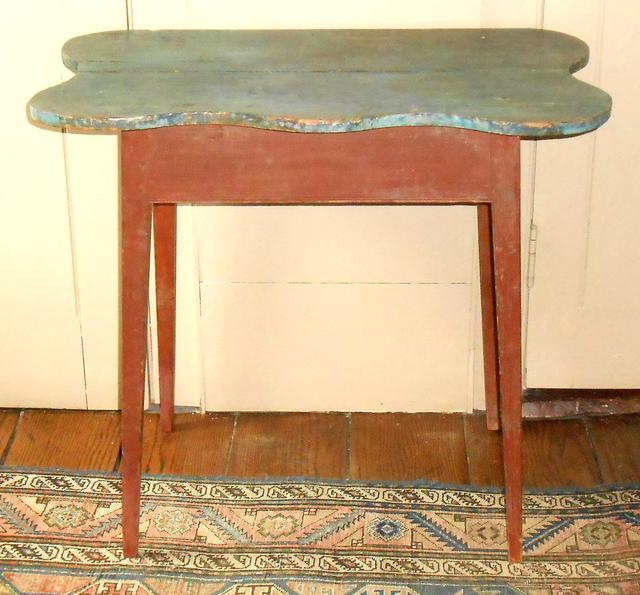 Circa 1790 Country Hepplewhite, server or dressing table



from Portsmouth, NH. This pinned original top is scalloped

on three sides and straight in the back, making it also useful as a tea table in front of a sofa, a side table or a server. There
is a good splay to the tapered legs. The red paint is all original, the blue paint on the top is over the original red. It 
stands 28" high and the top measures 31" wide by 20" deep.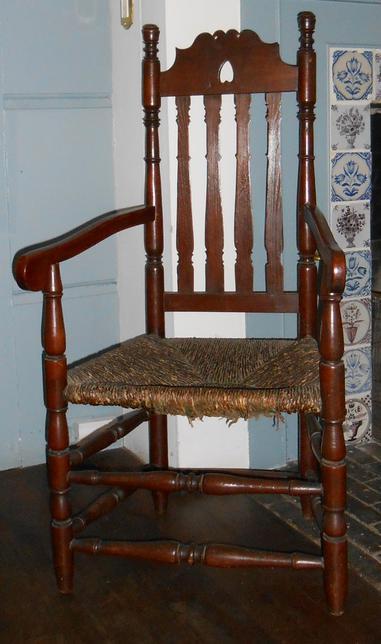 An exceptional heart and crown armchair, attributed to the Parmele
family of Guilford, CT., first half of the 18th C. The chair displays

a rhythmical feeling with carved volutes on the handholds and a stylized crest terminating in a fishtail. The upside-down heart is believed to 
represent opposition to the British crown. Elongated balusters are a consistent theme throughout the turnings.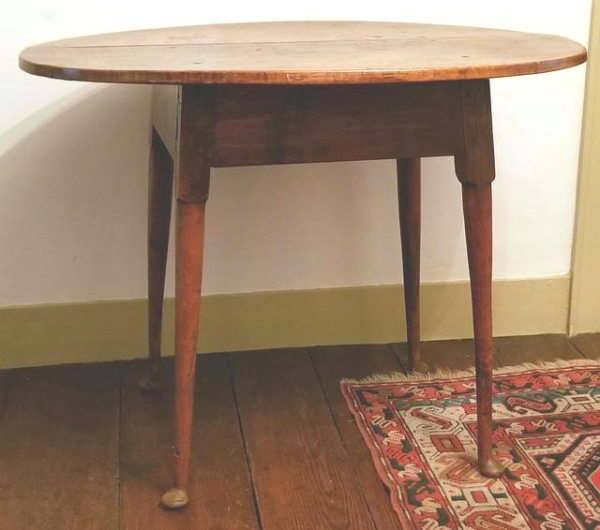 A handsome 18th C. New England, Queen Anne tea table having a tiger maple oval top, splay legs, pad feet and excellent proportions. It is 28 1/2" high and the top measures 35 1/4" by 25 3/4".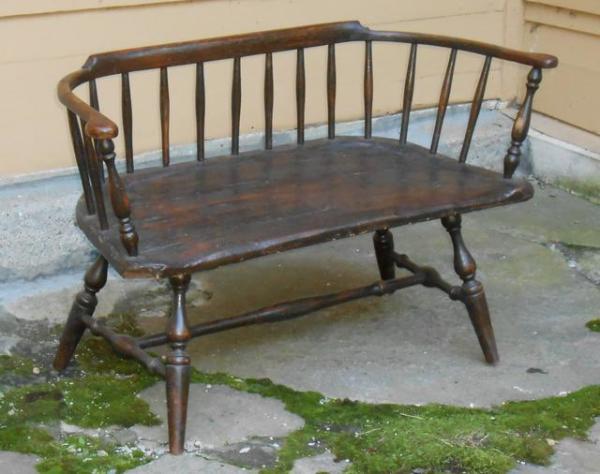 Rare 18th C. New York low back Windsor settee, also called a love seat or courting chair. The somewhat worn Spanish brown paint is early. The back is 26" high and it is 37" long. The seat height is 15" and there is no loss to the feet.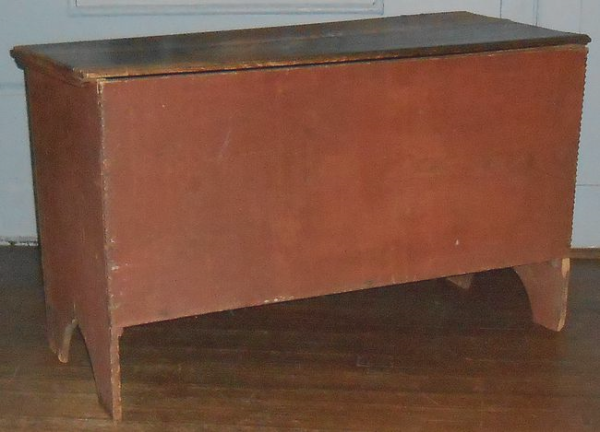 Early 18th C. Plymouth County board chest in original red paint over pine. The original lid has chip-carved edges and chip carving on the front edges of this board chest. It measures 27" high, 44 3/4" wide and 19" deep.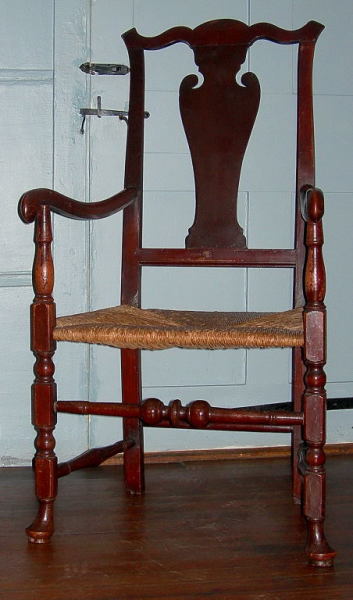 An extremely elegant and refined 18th C. Queen Anne armchair having turned block and ball front legs narrowing into raised pad feet. The front stretcher displays a strong double ball and ring. The back splat and crest are both fluid and rhythmical in form. Given its design elements, it is likely from Connecticut, Massachusetts or New York. Provenance: Eugene Bolles Collection, Nathaniel Hooper House in Marble Head, MA,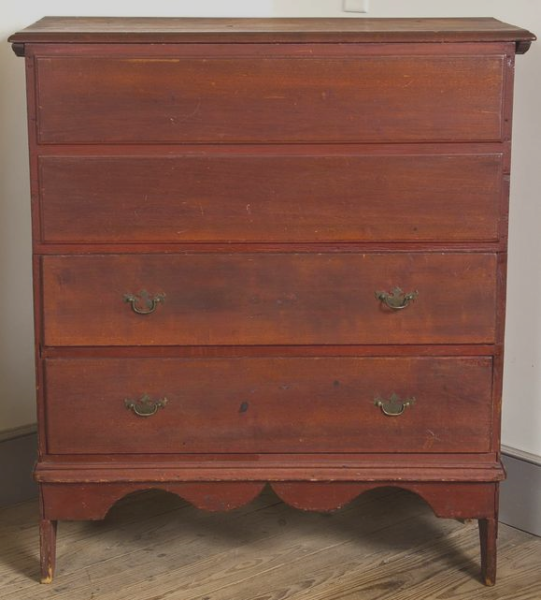 18th Century country Queen Anne two drawer blanket chest in original red paint, probably Connecticut Shoreline origin. This chest possesses its original handsome base molding above a cyma curve form apron and boot jack sides. The brasses are period, but replaced. The measurements are:
44" high, 38 1/2" wide and 17" deep.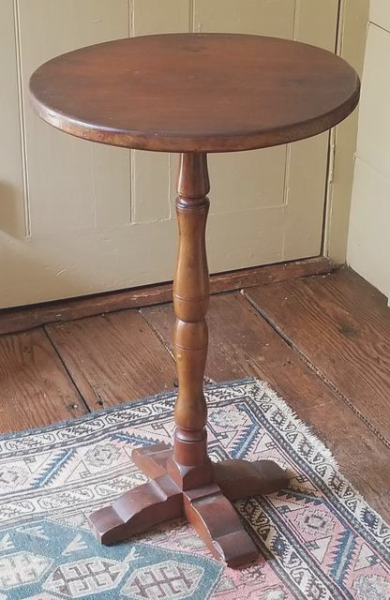 Early 18th Century, New York x-base candlestand of walnut and maple.

The cleat has been moved, leaving its shadow mark; often the case when
tops would become loose. The height of this candlestand is 28 3/4".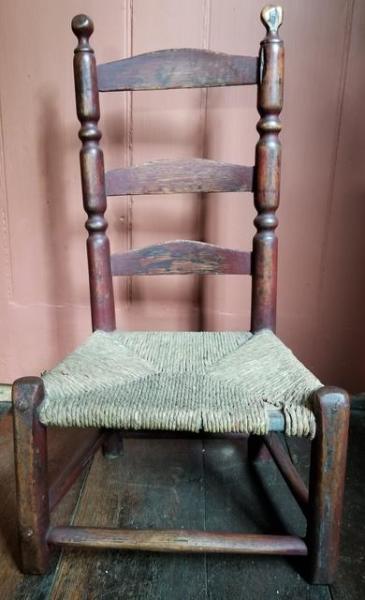 18th Century New England child's chair in original, worn oxblood paint. The turnings suggest a Connecticut Shoreline origin. From the wear on the front of the legs and one of the finials reveals that this chair was used as a support for a young child's first steps. The back is 26" high. Provenance: Howard and Priscilla Richmond Antiques from Southbury, CT.