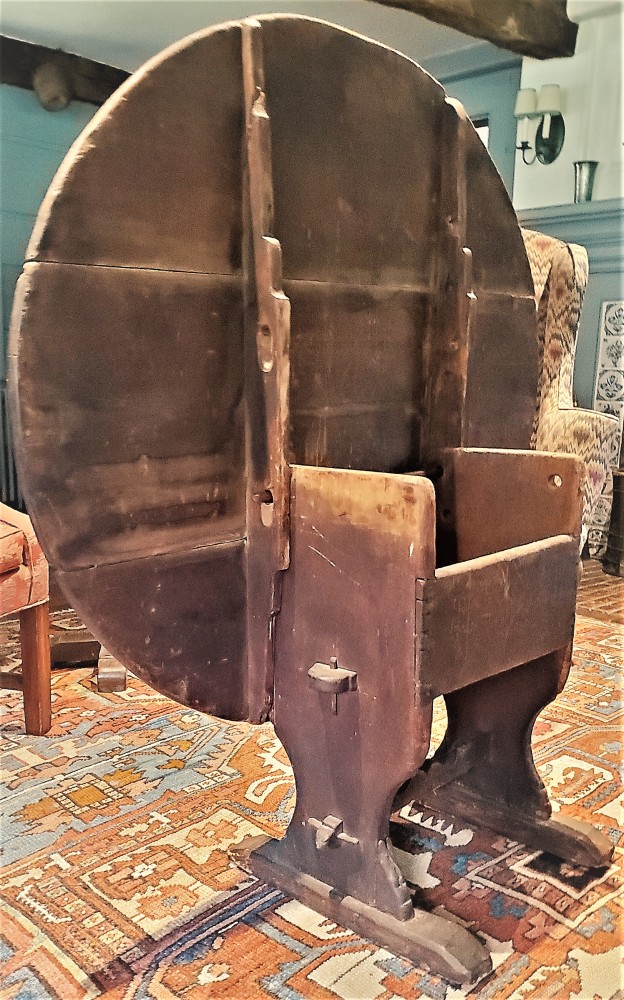 Circa 1700  New York, completely original shoe foot hutch table of cherry .

Rarely, such an untouched object can be found; the surface is 100 percent
undisturbed through time and the construction too is totally original. The 
table height is 27 1/4" high and the top measures 47" by 41". Provenance:
Dearfield Academy to Lillian Blankley Cogan.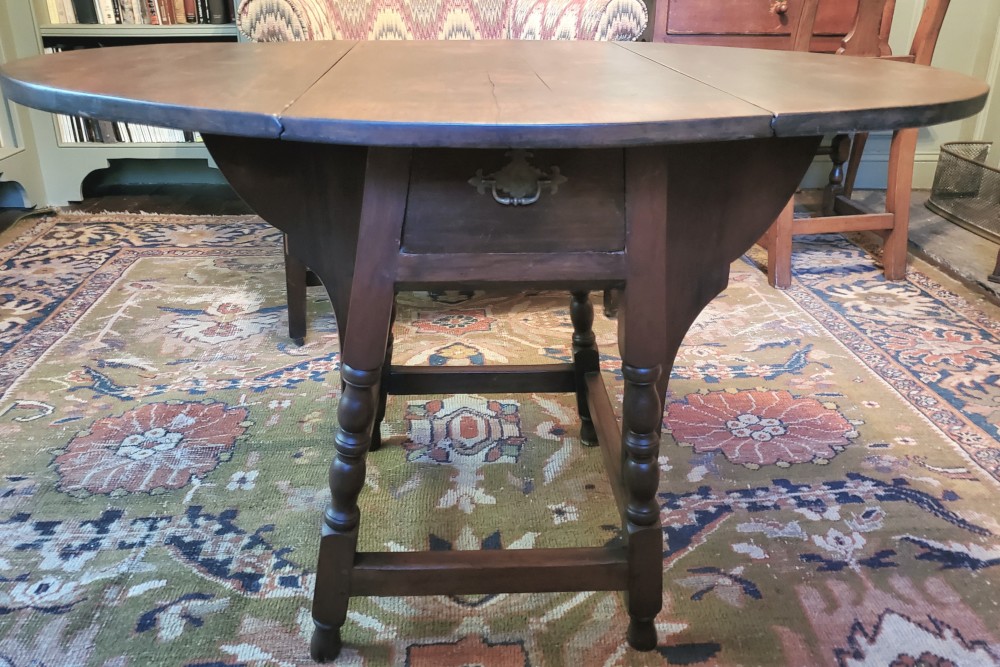 Circa 1730 Connecticut, cherry wood butterbly table with one drawer . This table boasts of having all its original feet and butterfly supports. 

This rarity has a good splay to the legs and overall excellent proportions.

The top is 41" long by 28 1/4" deep..

SOLD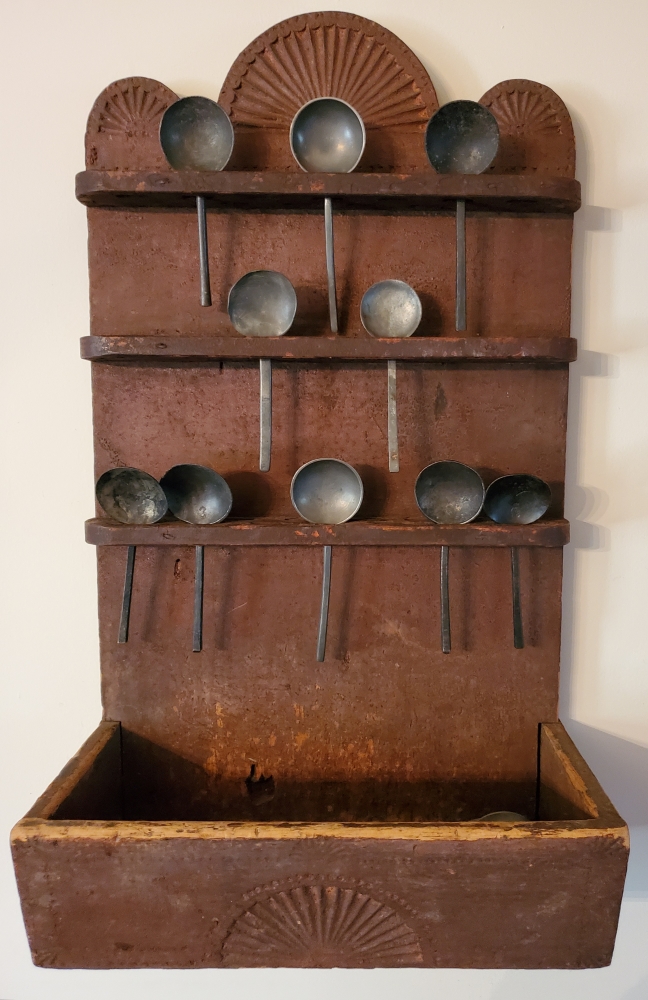 A superb 18th Century, New York or New England spoon rack in original red paint over pine. The carved fans of  the crest are echoed by the same carved fan

on the front of the utility box below. The nails are all T-head consistent
throughout.  The measurements are 
30" high by 17"wide.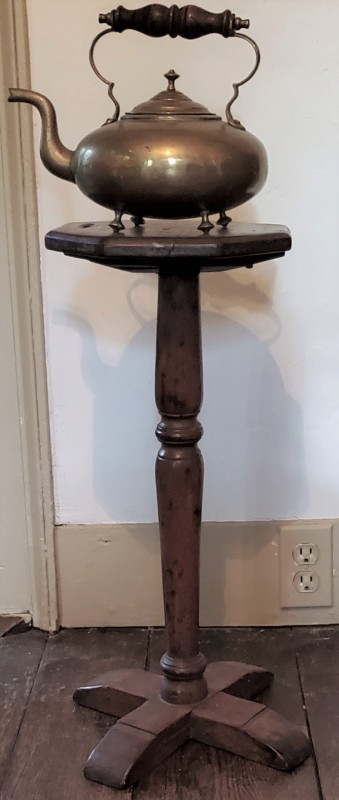 A true 18th Century, x-base kettle stand with octagonal top and

nice
old surface, likely New York. 
It stands 21 3/4" high and the
top measures
9 1/4" by 9" (from shrinkage).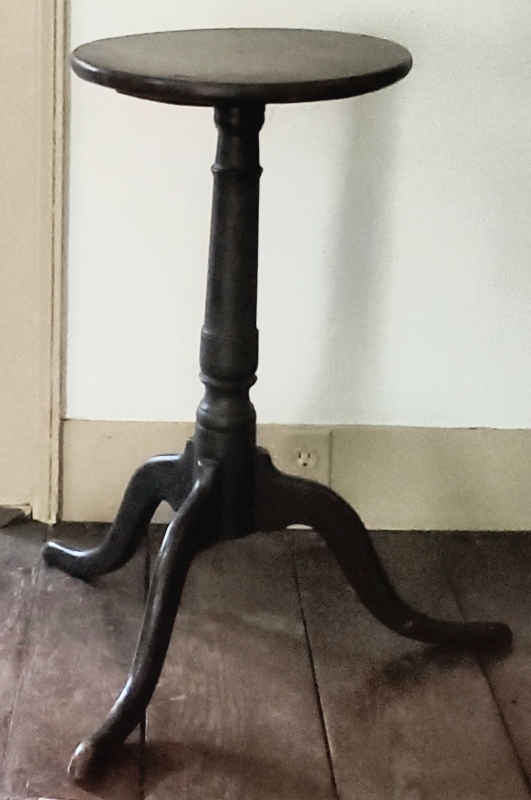 A refined 18th Century, New York candlestand in original black paint. This candlestand boasts originality, great proportions and untouched surface. It

stands 27" high and the top measures 14" in diameter.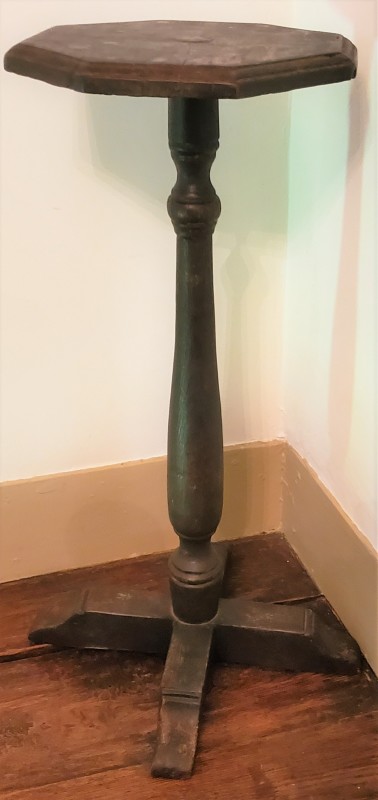 First half of the 18th Century, New England x-base candlestand in old brown paint. The octagonal top has a molded edge with handsomely formed standard and feet that make for an elegant simplicity to the overall design. Ut stands

25 1/4" high and the octagonal top is 11 1/2" all around
.
SOLD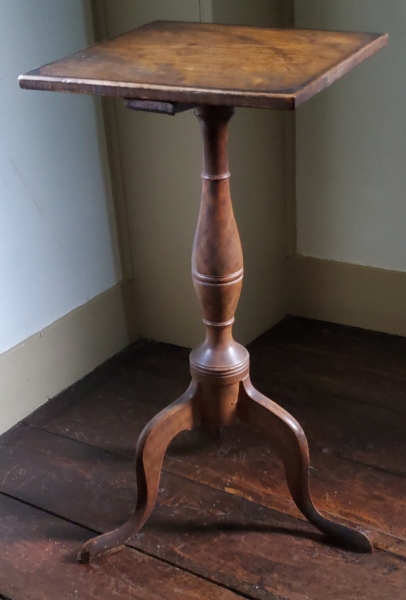 Circa 1770 New England (likely New Hampshire) maple candlestand

remarkably having its original 
paint decoration still all intact. The craftmenship in this stand is unusual intricate with chip carved at the base
of the standard that continues on the inside of its legs. The tops of each foot terminate in a fine knife blade edge that flows up into the upper legs.
The stand measures 28 1/2" high and the top is 14" x 13 1/2".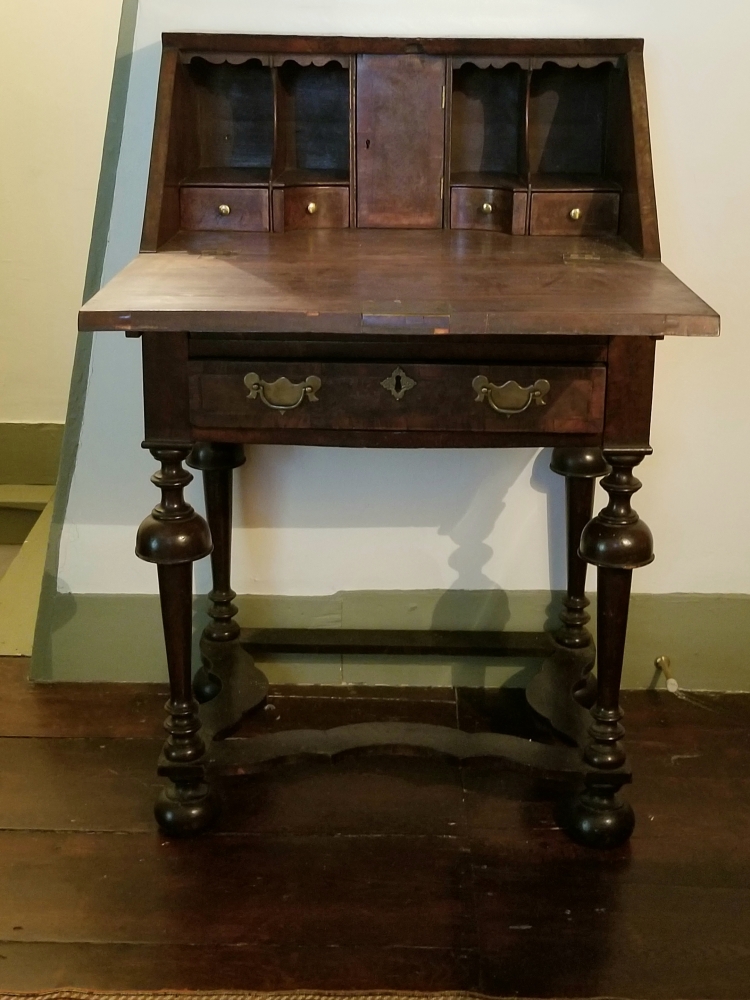 Extremely refined, early 18th Century Dutch lady's desk with wonderful lines and proportions. This walnut veneered desk has cross banding on the lid and its two drawers. It is so finely made that even the stretchers are veneered. The trumpet legs have exquisite form and all the brasses appear to be original, including the tulip motif escutcheon on the lid. The width is 21 3/4" and
​the desk's writing surface is 28" high.
SOLD
Circa 1720 New England  tap table in old red paint over black paint with 
a handsome, curved form apron on all four sides. The turned vase and ring 
legs are connected by a turned medial  stretcher and side stretchers, which echo 
the leg turnings. The breadboard ends are morticed into the top; a nice early feature. 25 1/2" high. The top
is 41 1/2" long by 27 1/4" deep.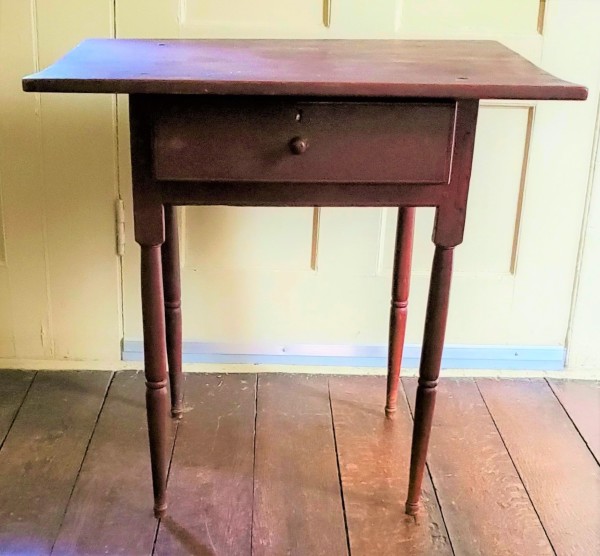 Early 19th Century New England

one drawer stand in original red

paint of
simple, elegant lines. The
wood pull
and the drawer lock are
both original. A great size side table
for  
It is 26" high. Top: 
27 1/2" wide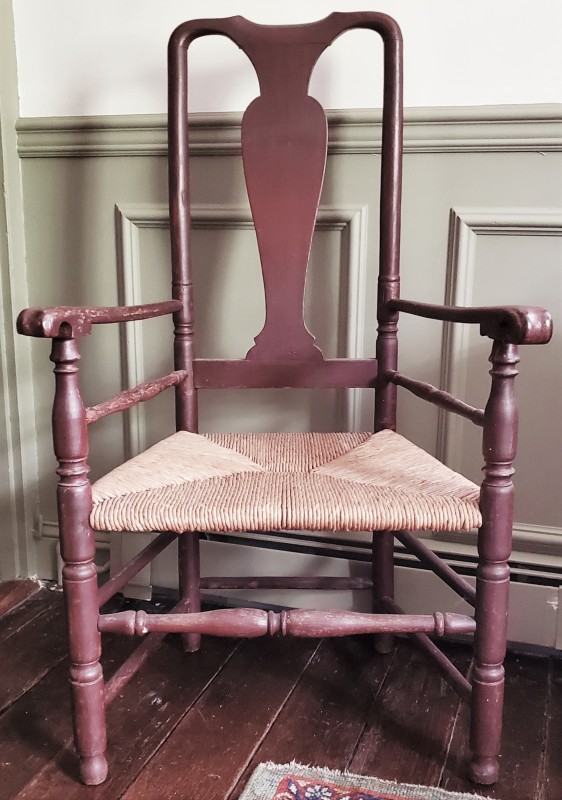 Circa 1730 Newtown, Connecticut early Queen Anne 
arm chair, all original including the oxidized red paint. The turned legs with a baluster and ring form stand beneath carved handholds. The seat height is 17" and

the height to the top of the crest rail is 44 1/2".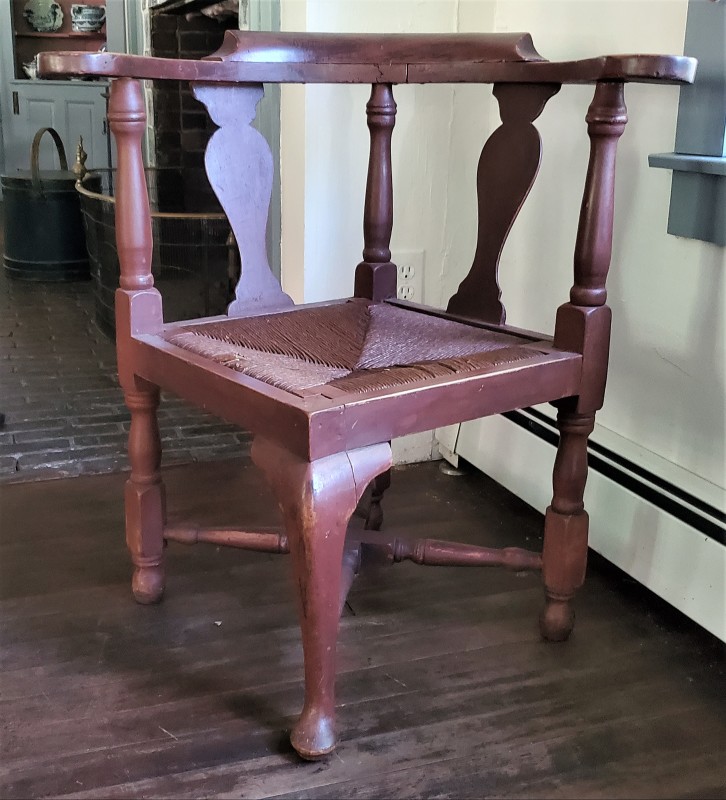 Circa 1730-40 New England (likely Connecticut) corner or roundabout chair

in early red paint.  Three of the legs are turned in the William & Mary tradition, while the front leg is a Queen Anne cabriole leg.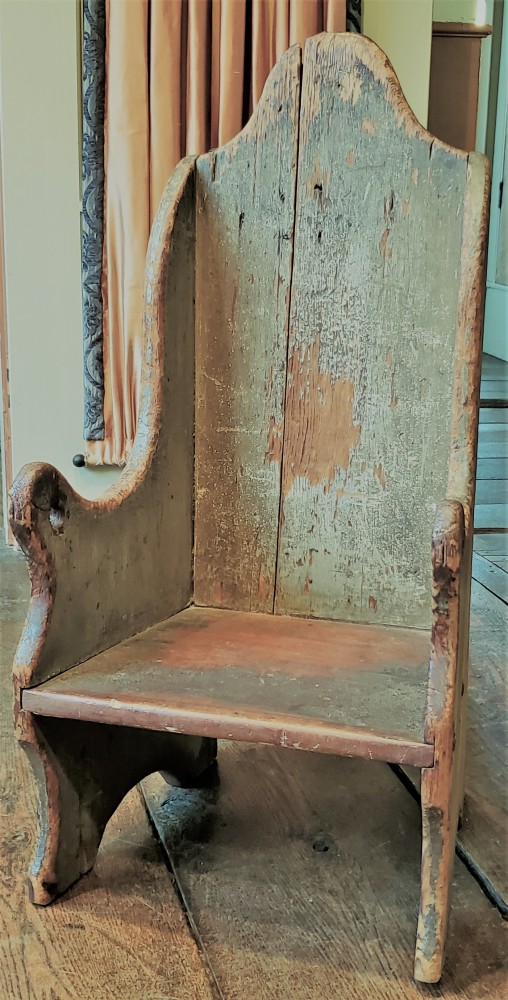 A super rare early 18th Century, New England child's settle

with all

 its wonderful, original paint history. This amazing survivor has lollipop shaped arms and a William & 

Mary tombstone form back. Once there was

a dowel that would have been placed through the holes 

in the arms to keep the young child in place. It stands 

​28 1/4" high to top of the back, 14" wide. 

SOLD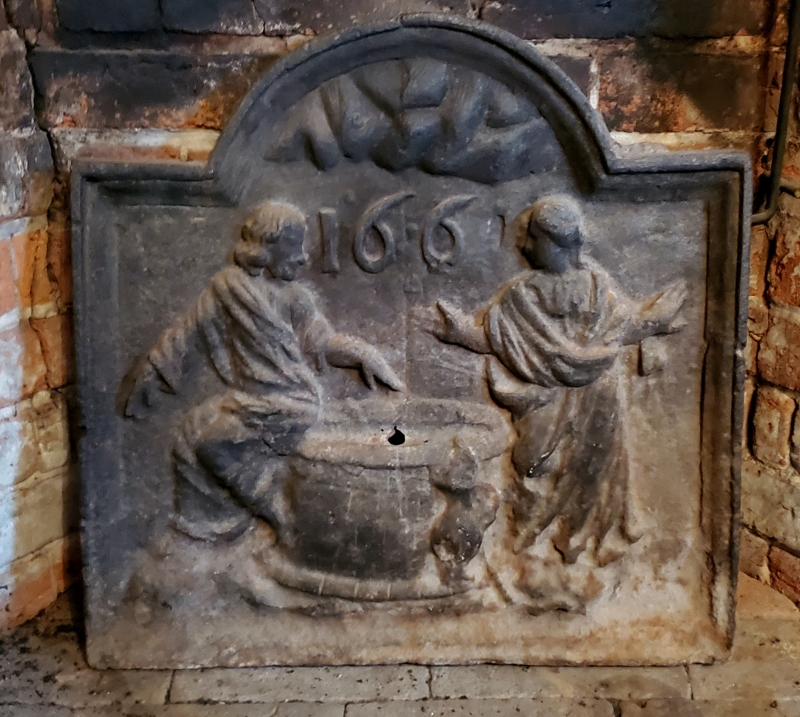 A very special 17th Century fireback dated 1661.

Here is the biblical depiction of Rebekah at the well, offering the servant of Abraham water from her

pitcher for him and his camels. It measures

A completely original

18th  or

very early 1

9th Century toaster

for down

hearth cooking. This

has a superb surface as well as 

wonderful and decorative form.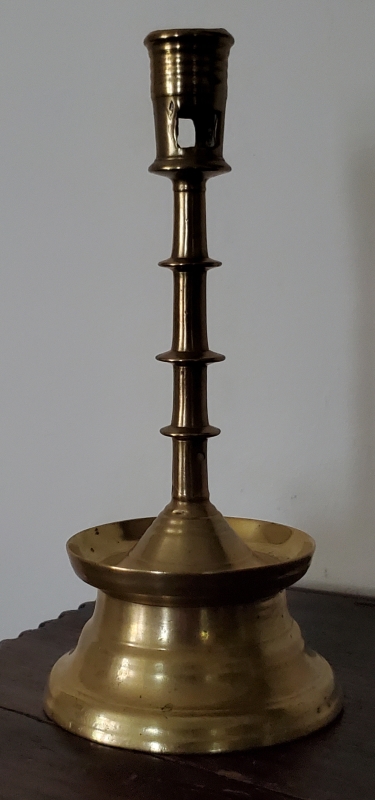 Circa 1450 three knob brass candlestick, probably Flemish. 

Encircling the upper part of the base is the drip tray; like

a small gutter. This stick stands 9" high.  

SOLD
Classic pair of English Queen Anne brass candlesticks,

both seamed with petal base, circa 1740-50. Both are in completely original condition.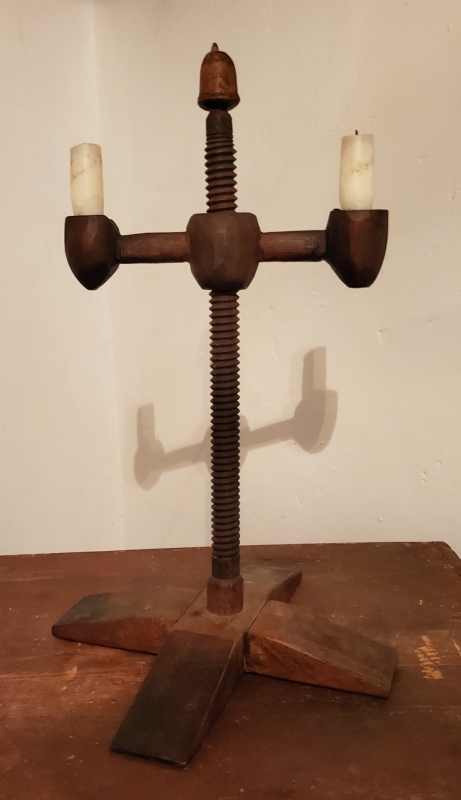 18th or early 19th Century x-base double candle stand. made to use on a table or candlestand. The added acorn finial gives 
this early lighting device an additional charm, 17" h.  

SOLD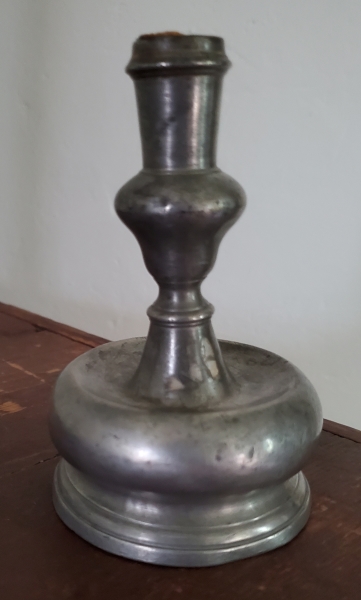 17th Century lowlands pewter bell form base candlestick having a domed foot and inverted acorn knob. This style is highly sought by collectors of Colonial antiques.

SOLD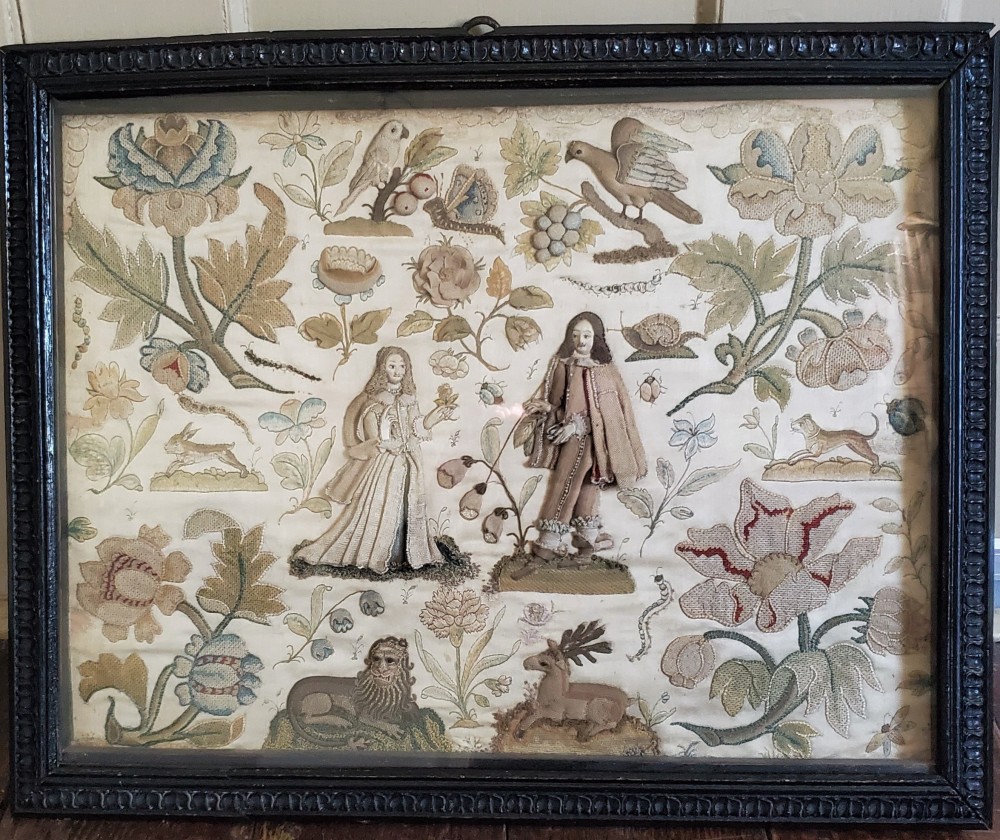 A fine circa 1660-80 English stump work picture of Charles 11 and  Catherine of Braganza.The 

couple are surrounded by the oversized flora nad fauna, which was the favored motif of the period. This is in excellent condition as is the period frame and early glass. The measurement
​of the frame is 22" by 17 1/2".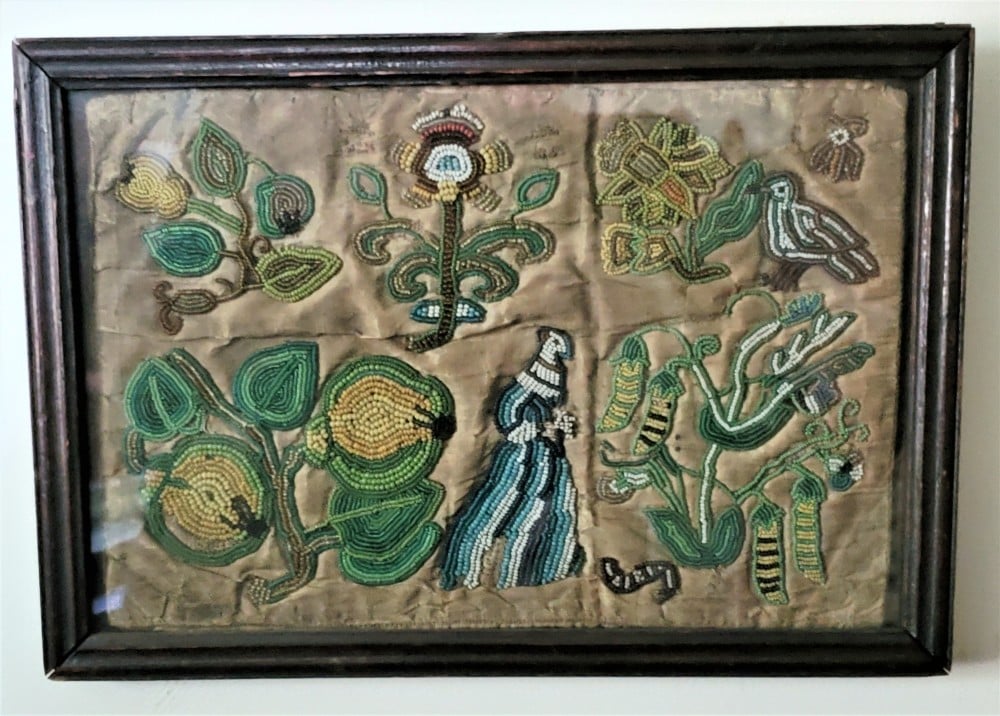 17th Century English beadwork picture on silk 

h
aving all the classic 
motif of oversized flora and
fauna surrounding a female figure carrying a
flower in her hand. The frame measures 13 1/4"
by 9 1/4". 
Provenance: Lillian Blankley Cogan

Early 19th Century hanging pipe box of pine having old

green
paint over the original red paint. The elonged back
is 
terminated in a tombstone shaped top. The measurements 
are: 25" high, 4 1/2" wide and 4" deep.
SOLD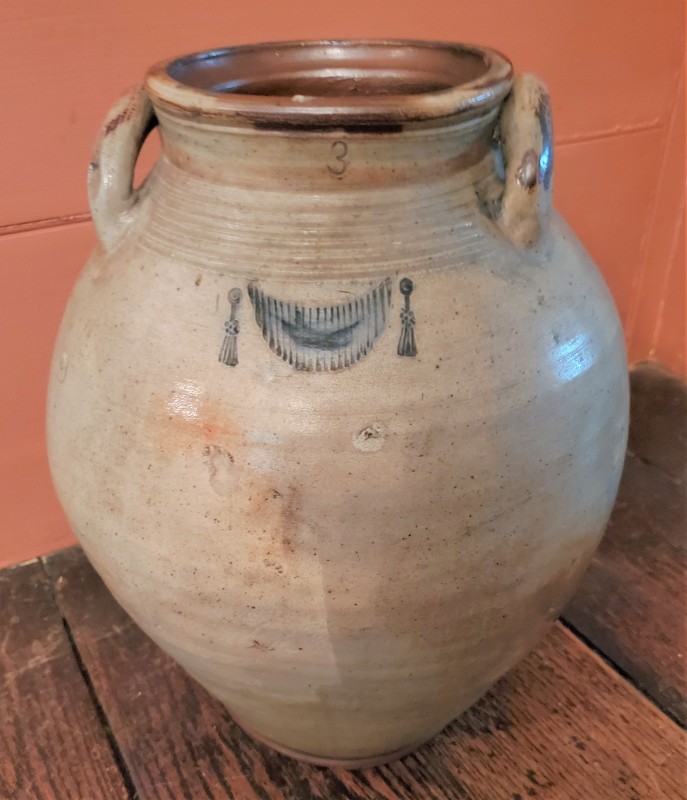 Circa 1800 Charlestown, MA three gallon hollowware jar, Frederick Carpenter 

pottery in excellent condition. An absolutely beautiful piece having an incised cobalt swag and jabot on both front and back. The neck with concentric circles

under the side handles adds to its fine quality. A more

exquisite piece would be hard to find, 

15 1/4" high.

SOLD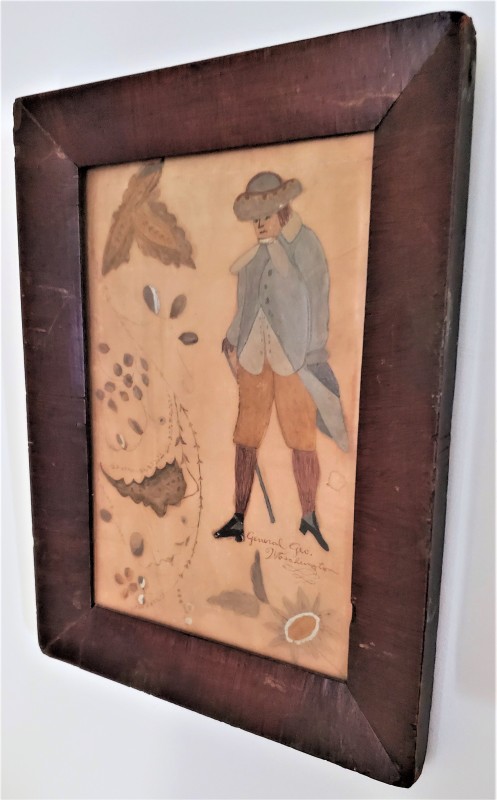 A 19th Century, folky drawing of George Washington 

​in its original frame. The words 'General George Washington'

are written in script below his figure.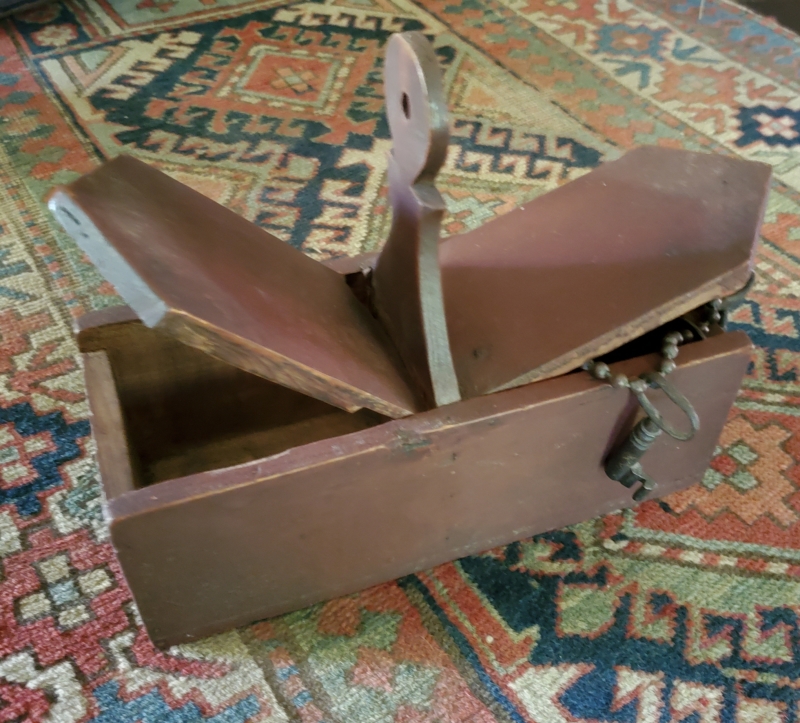 19th Century New England key box. It is not common to find a wooden key box and this one is in original red paint. The form is especially charming and pleasing. Including the handle, the key box measures 

9" high and is 12" long.

19th Century New England butter churn in original, worn blue  paint. The dasher is very special, so please click on the photo to see accomanying pictures including its original dasher.