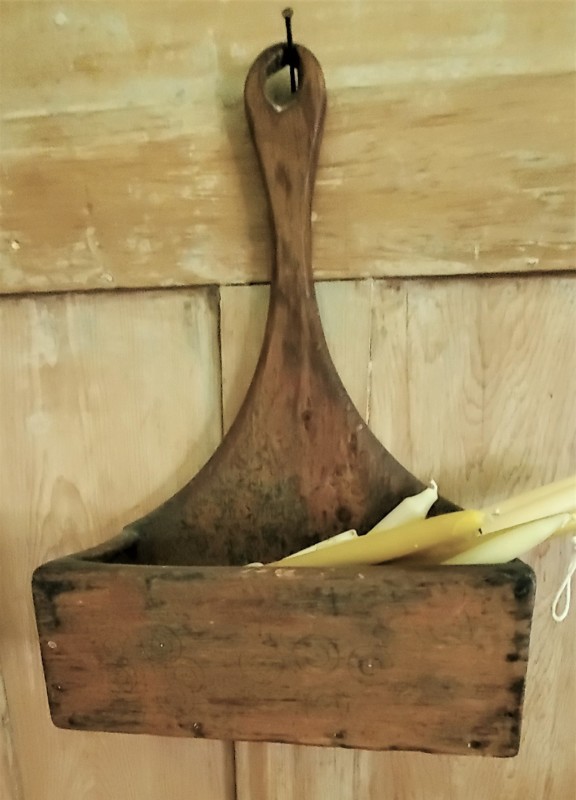 Early 19th Century, New England hanging candlebox

with traces of old green paint over pine and random
incised concentric circles on the front of the box.. It 
measures 17" high by 12" wide and 6" deep. $485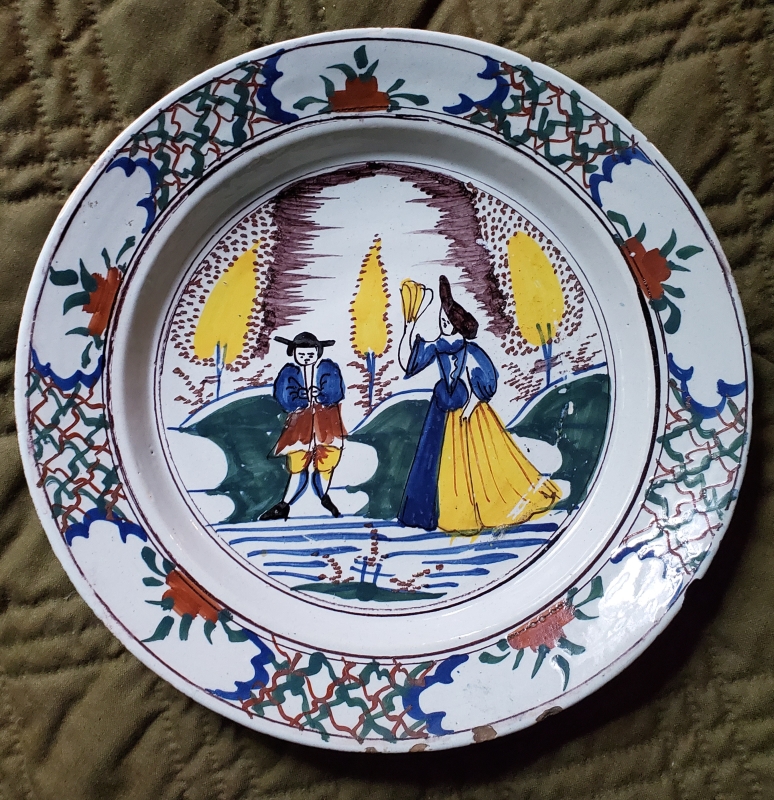 A delightful and colorful circa 1750, English delft charger 

having a central motif of a lady fanning herself as a gentleman 
plays a wind instrument.behind her. This charger
is 13" in diameter. It is 
in fine condition with the exception
of a few chips on the
bottom right rim edge area. 
$325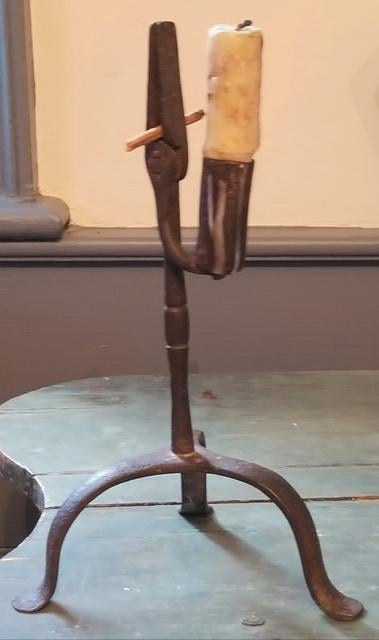 Early 18th Century wrought iron rush and candle holder

having an extra special central 'turning' on the shaft. It

stands 10 1/2" high. $

495
Early 19th Century

 painted wood box having 
George Washington on horseback on its top.

There is a lift-off insert with divided sections,
which could be used to store jewelry or 
anything
desired. The box is in 
original paint and paint
​Early 19th Century New England foot stool having its original green paint, edged in gold color paint. The top had been upholstered at one time as indicated by the square nail holes

.

$385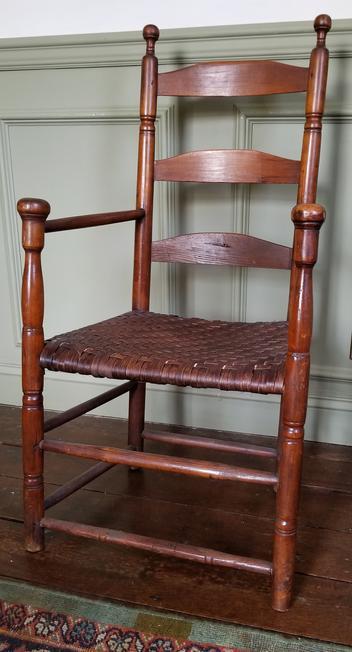 18th Century Connecticut, slat back



arm chair of cherry wood, having mushroom

hand holds above turned front posts.
$485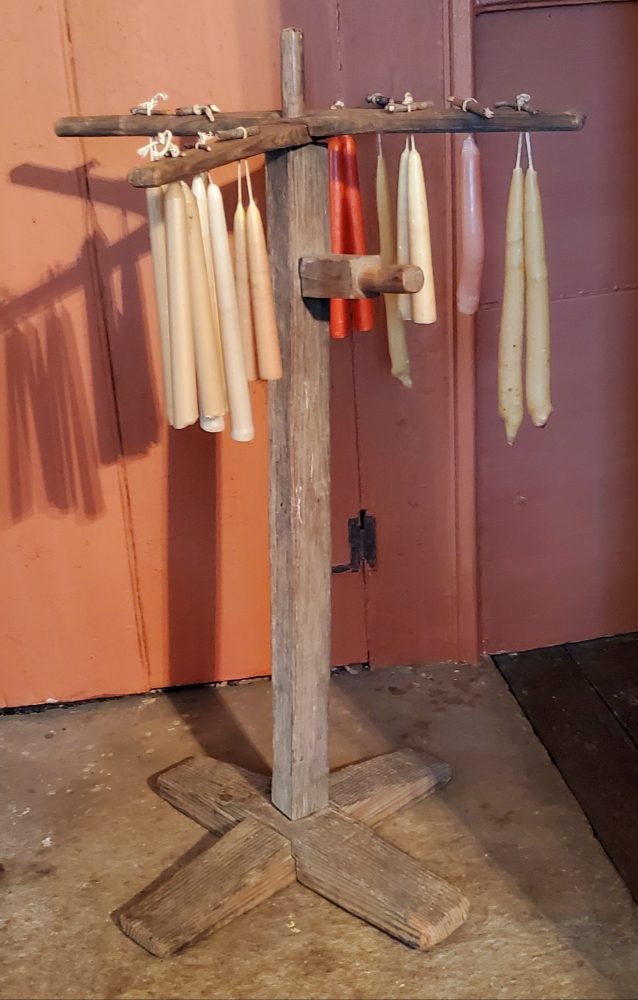 18th or early 19th Century standing, x-base candle drier

 of ash and chestnut. 

An interesting addition at a fireplace hearth, in ta kitchen or keeping room. It stands 33" high.

 

SOLD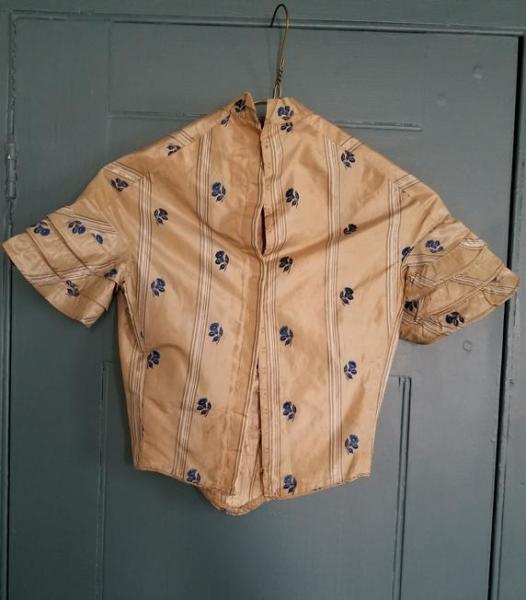 Circa 1820-40 silk taffeta lady's jacket with vertical stripes and repeating flower motif in good condition.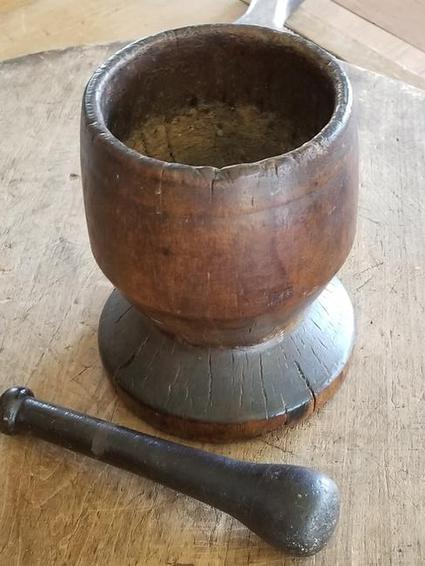 18th Century treen mortar with early iron pestle

in best patina and perfect wear. It is 5 3/4" high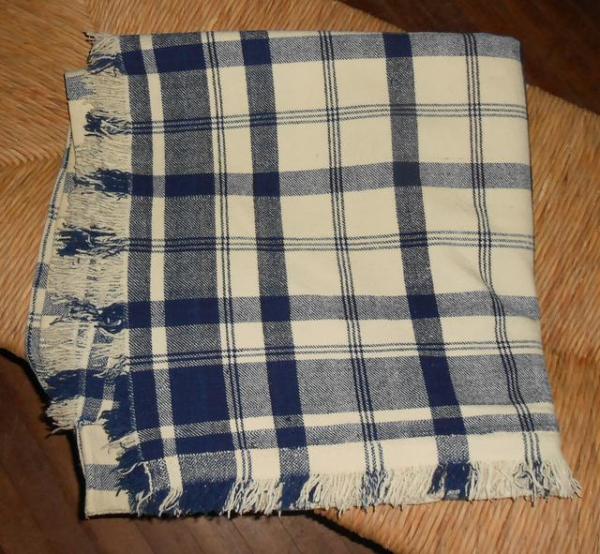 A clean, lovely and early 19th Century,  woven 

wool blanket with only a few very

minor imperfections. It can also be used

at the foot of the bed. It's 84" long by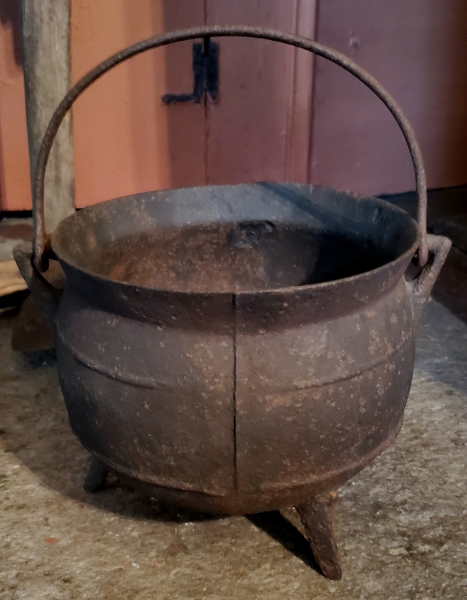 An excellent, circa 1700 cast iron three-legged cooking vessel

having a gate on its bottom. The early examples such as this   display the thin characteristic of the iron because of the high

cost

of the metal at the time, 7 3/4" high, 8 1/4" dia.

$185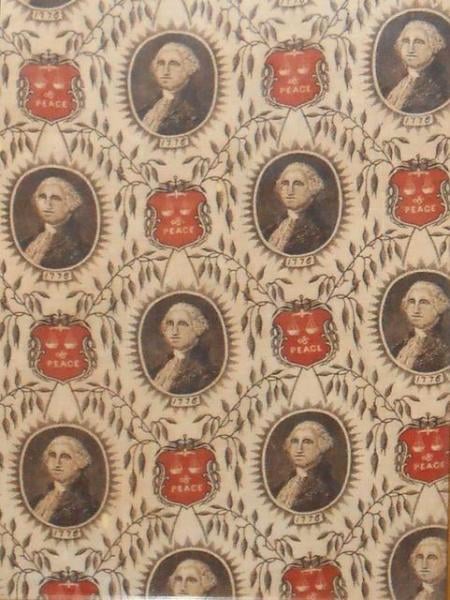 American 1876, centennial textile depicting



George Washungton within a medallion, flanked

by a shield of Justice and peace. Printed by the
American Printing Company, Fall River, MA.
See 'AMERICAN ANTIQUES' by Helen Comstock,
page 330 for another example. The frame measures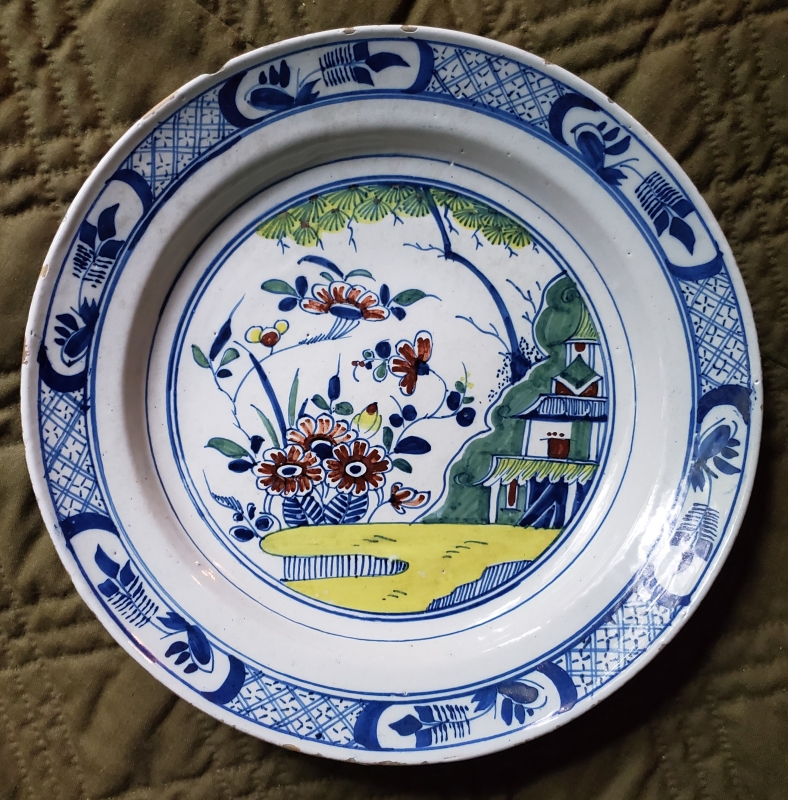 Circa 1730-40 English delft charger, Bristol.

The use of chinoiserie motifs on delftware began around 1720  from the English taste for Chinese porcelain. This charger displays a Chinese pagoda, tree and flowers, 13" in diameter. This charger is in fine condition with minor rim edge chips. For a similar example, see English Delftware by F.H. Garner and Michael Archer, plate 62B. 

$465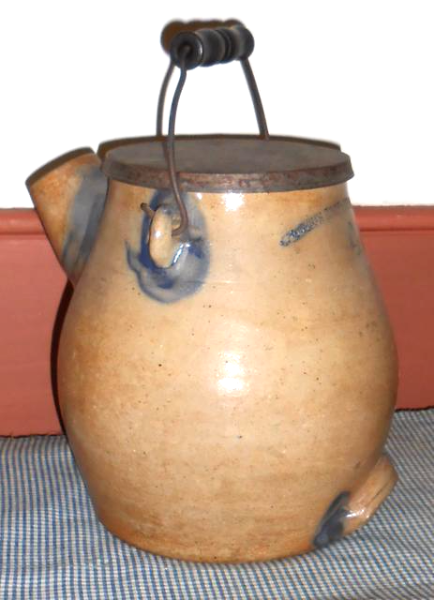 Mid 19th Century cobalt on stoneware 

batter jug with

its original tin lid. 'ROBERTS BINGHAMTON,

NY' is stamped on the upper 

back. The original bail handle is removable. It measures s

 9" to the top of the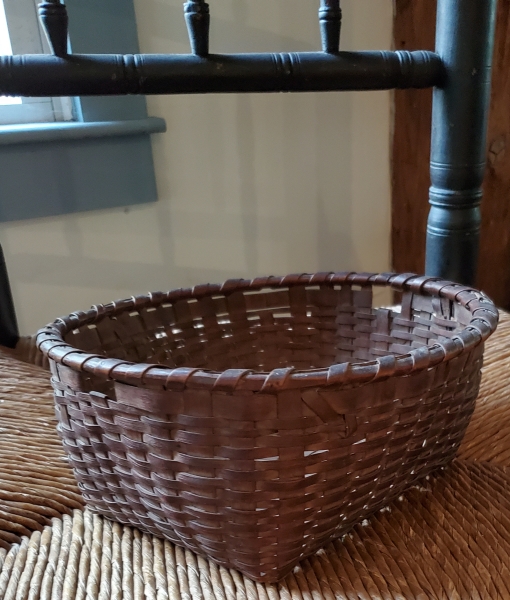 An early 19th Century,

 New England woven basket 

i

n excellent condition and beautiful original surface. It measures 

5" high and 11" at widest opening. 

SOLD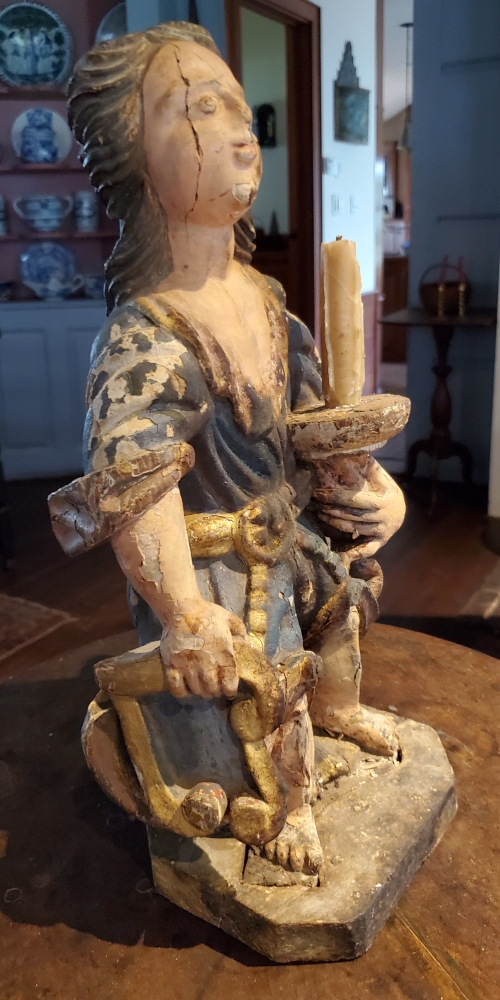 An 18th Century candle holder

made of gessoed and painted carved wood, likely of Spanish origin. The male figure carries a torch in one hand that holds the candle and a lyre in the other hand. It is 17" high. This is a unique change of pace from all the usual candlesticks and candle holders one finds in use in Colonial homes. 

$365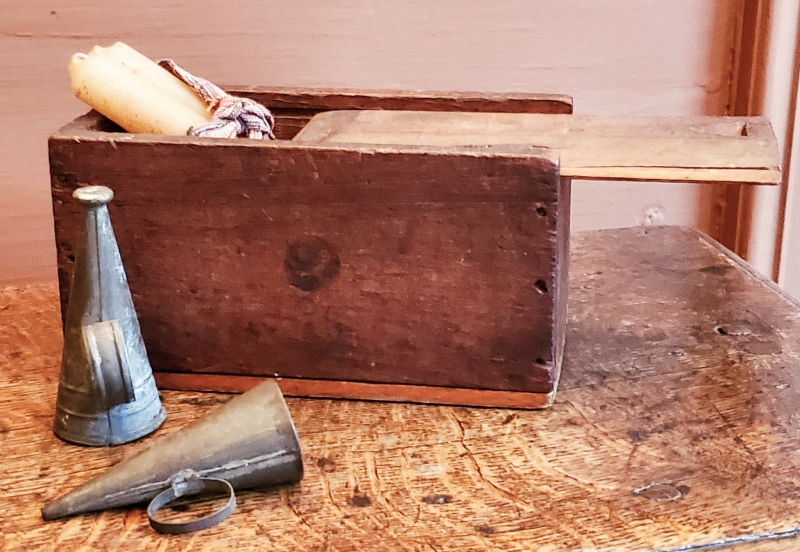 An early 19th Century, New England candle box

with slide top, decorated on all sides with a  central painted black dot. The nails are small 

T-heads. The box is 3 1/2" high, 6 1/4" long, 3 1/2" deep. 

$185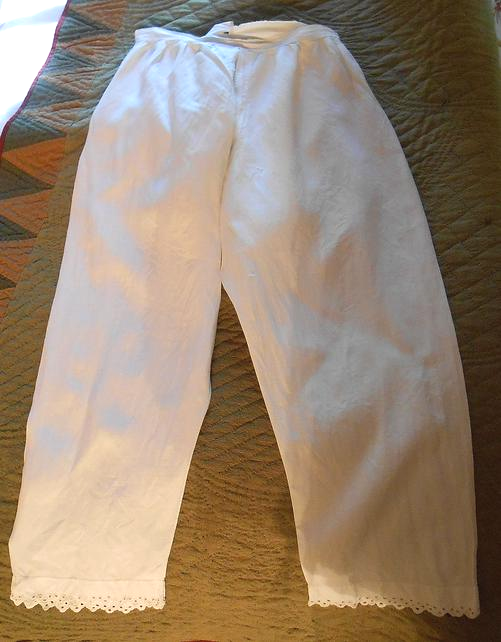 Pair of circa 1840-76 woman's drawers. This
undergarment was made in two leg sections, held together at the waist. Charming on
a bed, over a chair or hanging on an old door.
$35
with free shippimg.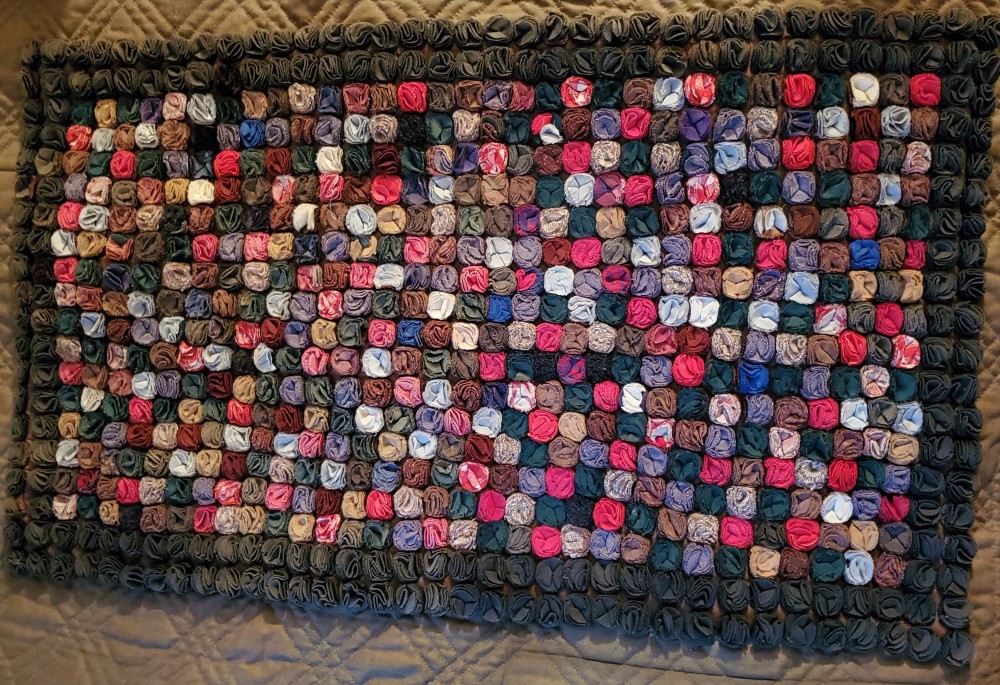 A charming and unique table rug creatively executed with various colored fabrics, made into rose shapes sewn onto 19th C. brown cloth. Perfect for a colorful folk art collection on a table or hanging graphically. It is 

40" long by 23" wide.

$265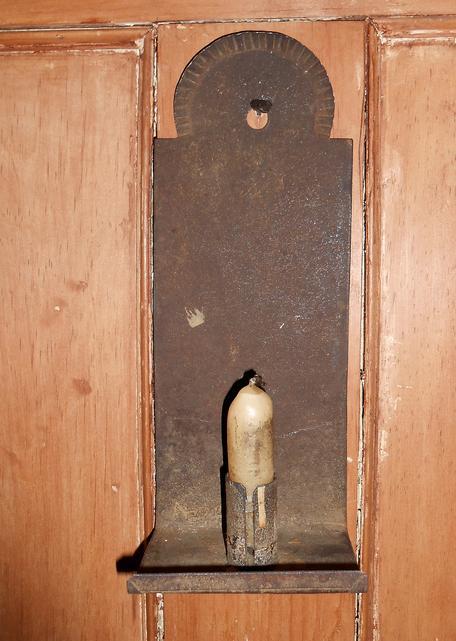 19th Century American rolled iron hanging sconce

with crimped, tombstone shaped top and clinched
candle cup. It is 10" high and 4" wide.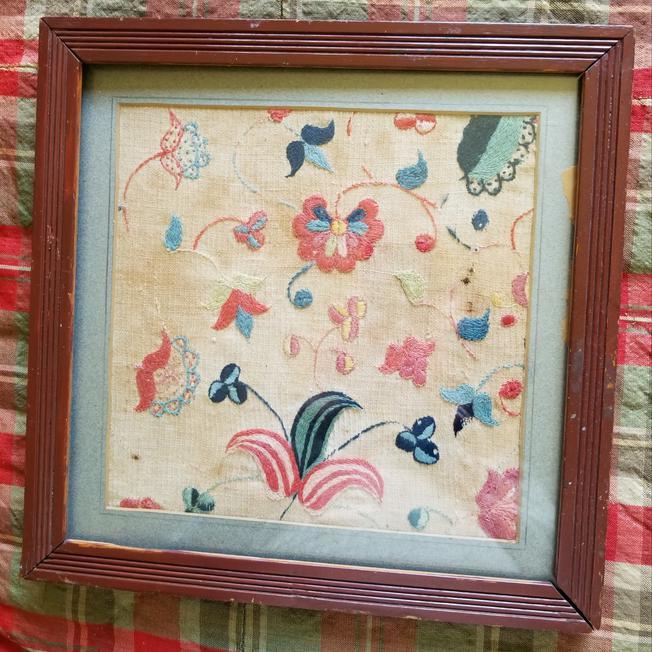 18th Century American needlework` fragment

from a gentleman's wedding jacket. Attached to the back is a handwritten note by a family descendant,
which reads "Miss Grover's Great Grandmother Hand work 150 years old or more. This cloth is a piece of 
Ebinizer Stilury's wedding coat made by his wife 
Florence Tibbite."
$310